Concrete Countertop Edge Options
Adding an edge detail to your concrete countertop can be the difference between having a modern-looking countertop to having an old-world looking countertop. Edge details give a countertop a nice finished look, and with the variety of forms available, can offer numerous design options.
Edge details are created by using forms or molds. Many companies offer prefabricated edge forms in a variety of patterns. Here are a few samples of edge forms offered by Buddy Rhodes Concrete.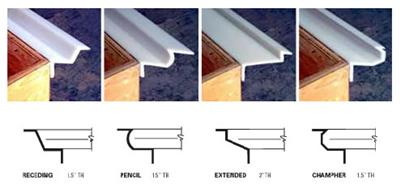 Most contractors will have their own set of edge detail options, so be sure to ask.