Six Fabulous Countertop Projects
Details about how they were designed and built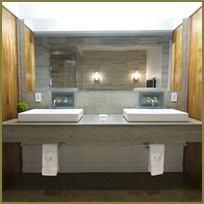 Reaching Quiet
Getting a Massive Concrete Look
This modern home incorporated concrete countertops in the kitchen and bathroom. The client wanted the look of the countertops to appear 'massive,' with heavy-duty drop nose features. As this picture illustrates, the countertop in the bathroom continued the mass appeal. Concrete artisan, Eric Boyd of Reaching Quiet in Charlotte, NC, says "The master bathroom piece weighs about 1200 pounds. It has drop-nose features on three sides at nine-inches thick. We had the contractors build a strong, steel wall with forks that stick out so this whole piece just floats off the wall. There's a visible 2-inch gap on the sides to emphasize its defiance to physics. The weight and mass kind of takes people back—really gives it the 'wow' factor.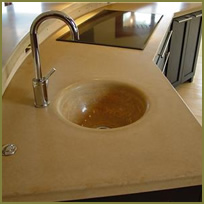 Nobel Concrete
Integral Concrete Sink in Concrete Kitchen Countertops
This kitchen in a home in Michigan features a concrete farmhouse sink, an integral garden sink, and an 11-foot long island upper bartop. Concrete artisan, David Eerdmans of Nobel Concrete, who built and designed the countertops says, ""They wanted a garden sink to cut vegetables, so the sink was designed for a garbage disposal to be attached," says Eerdmans. "The clients specified that they wanted the garden sink to be 14" diameter and 5" deep," he says, so he created a custom mold and built it into the single countertop piece. He cast the garden sink with the countertops, and ground it down, filling in voids in the concrete with color which "gives it an old world look," says Eerdmans. "The customers loved it," he adds.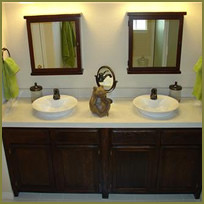 Ancient Art
Apothecary Countertops- A Glimpse Back to the 1920's
Apothecary is an historical term used to describe a pharmacist or druggist. "It's reminiscent of the 1920's or 30's," says Bright. "The homeowners wanted the countertop and sinks to look like that era. Usually the countertops would have white porcelain tops, with white containers." After researching, Bright thought that Buddy Rhodes' bone white mix would work best to achieve the look."We don't do many countertops in plain white, so I thought this project was unique. I suggested to the clients that we use the bone white color with a hard troweled finish.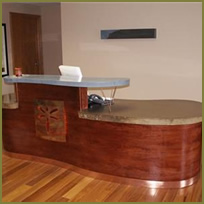 Coulee Concrete
River-Themed Concrete Countertop Reception Counter
The client's request was for "an eclectic reception piece that made a cool, understated 'wow' to her patients and clientele," recalls Janet Coulee, owner of Coulee Concrete Designs which designed and installed this counter. Using computer aided designs and layouts, the Creasy was able to illustrate a variety of options and colors in order to decide on the final piece. The final functional art piece was an asymmetrical "S" shape emulating a river bed in two levels. "It includes several pieces of 'jewelry', our term for embellishments," explains Janet, "such as an integrated bowl for river rocks, imprinted samples of northwestern foliage and a rocky 'live edge' that only comes from the customability of concrete." It also incorporated a sand color on the bottom countertop and a blue color on the top countertop to coincide with a river theme.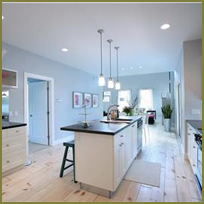 Petra Cast Stone
Concrete Countertops: Building Green Materials
Tim Boening, owner of Petra Cast Stone, recently built and installed black, honed concrete countertops and a concrete fireplace surround in a home in Grand Rapids, Mich. "For this job, [the developers] wanted a green product since they had used a lot of green materials on the site during construction. Since concrete is a renewable source, it fit with what they were trying to do," says Boening. The designer specified black, honed countertops with slight aggregate showing. "They have a soapstone feel," says Boening. "We polished them up to 200. They have a matte-like finish.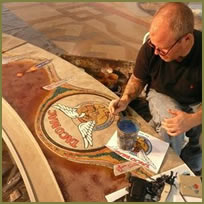 Decorative Concrete Institute
Building a Super-Sized Taco Bar
Bob Harris, of The Decorative Concrete Institute in Temple, GA, created this 65-foot meandering bartop for a local restaurant. Concrete was the chosen material because of its durability and versatility. Unique aspects of the project include a drip tray, embedded beer bottles, the restaurant's logo and a free-flowing ribbon design. The counter was precast and installed in one night while the restaurant was closed.
Learn more by reading Building a Super-Sized Taco Bar