Concrete Countertops Outdoors
Whether it's for a simple barbecue counter or an elaborate outdoor kitchen, concrete is an ideal choice for outdoor countertop surfaces. Concrete countertops offer easy maintenance and are one of the most durable materials on the market. They can withstand all seasons, and they provide a sturdy, easy to clean area for prepping food, barbecuing, or just for entertaining.
Why choose concrete for outdoor countertops?
| | Concrete | Granite | Tile |
| --- | --- | --- | --- |
| SEAMS & GROUT JOINTS | Can be designed in any size or shape with no visible seams or joints. Learn more about concrete sizes and shapes. | Slabs must be cut to fit and require epoxied seams | Plagued with grout lines that can trap dirt |
| COLOR | Infinite choices using integral color or stains for solid or variegated looks. Learn more about concrete colors. | Limited to existing slab colors | Limited to existing color palette |
| PERSONALIZATION/SPECIAL EFFECTS | Can be personalized with embedded objects such as recycled glass, coins, pebbles, seashells, etc. Can incorporate fiber optics for nightly effects. Read more about embeds and inserts. | Limited to natural design found in slab | Limited to designs that can be precut |
| EDGE DETAILS | Inexpensive Styrofoam forms allow for a variety of different edge details. See concrete countertop edge options. | Edge details get expensive when thicker than 1 inch | Limited to existing edge detail pieces available |
| CUSTOM | Concrete is a craft product hand-created by artisans | Is a mainstream product with very few customization possibilities | Is a mainstream product with limited choices for customization |
| WEATHER RESISTANT | Formulated to withstand freeze/thaw temperatures | Seams can be affected by freeze/thaw temperature changes | Potential problems in harsh weather conditions |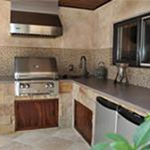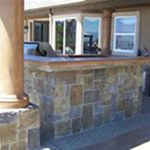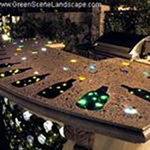 Every concrete countertop has unique design decisions that were made to meet specific desires or needs. Because concrete is so versatile, homeowners have many more options for selecting shape, size, color and amenities. From coloring countertops to match the edging of a pool to embedding wine bottles with fiber optic lights, concrete may possibly be the most flexible design material available. Take a look at these four examples of outdoor concrete countertops used in various backyard areas.
See outdoor concrete countertop projects.
Concrete Countertop Photos & Informational Videos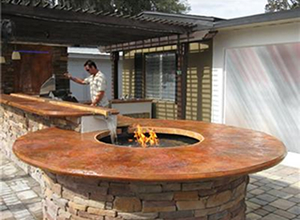 See photos of
outdoor concrete countertops
Outdoor Kitchen Concrete Countertops
See why concrete countertops make a great choice for outdoor kitchens.
Outdoor Concrete Countertop Standards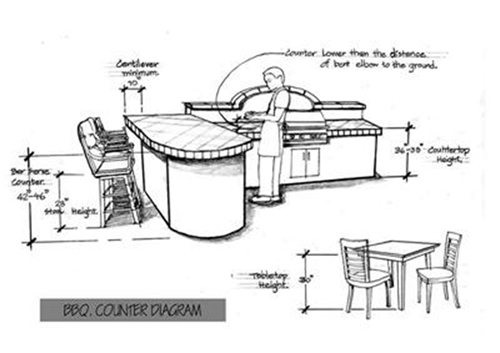 Concrete countertops are an ideal solution for an outdoor kitchen area. When designing with concrete, not only is it beneficial to know the design flexibility of the material, but it's also useful to know the standards for using the material outdoors. Use this reference for designing a highly functional workspace using concrete countertops, see Standard Countertop Dimensions.