Concrete Countertop Weight, Thickness & Height
CONCRETE COUNTERTOP WEIGHT
The weight of a concrete countertop has a lot of bearing on how it is built and how it will be installed. A standard 1.5" thick concrete countertop has an approximate weight of 18.75 pounds per square foot. In comparison, granite is approximately 18 pounds per square foot.
Lightweight countertop mixes are available to help reduce the restrictions found in design and installation with heavy countertops. You can review various manufacturers that offer concrete countertop mixes (both traditional and lightweight) from ConcreteNetwork.Com.
Another method is gaining popularity for creating uniquely shaped and designed concrete countertops with extreme light weight. Glass fiber reinforced concrete (GFRC) is a material that can be used to create concrete products at a much lighter weight than with traditional concrete. Decorative concrete artisans have discovered GFRC's benefits for decorative panels, such as fireplace surrounds, concrete countertops, and artificial rock work as examples. Read more about GFRC countertops at ConcreteNetwork.Com.
CONCRETE COUNTERTOP THICKNESS
Concrete countertops are so appealing partly because of the variety of looks they can provide. A 6" thick and heavy-looking drop edge front can be achieved but does not require the entire countertop to become 6" thick.
The standard slab thickness is 1.5" – 2". This is the most common thickness which gives countertop edges a very mainstream look. Larger thicknesses are possible, as mentioned. If a 6" slab is desired, the back and center of the countertop are still 1.5" thick and the front "grows" to the desired thickness. So it still looks 6" thick but is only 6" thick in the front.
Casting countertops larger than 1.5" – 2" thick can be a nightmare to install because of weight. Mostly done for aesthetic reasons, however, contractors have developed ways to build the majority of the countertop at standard thickness but to create appealing designs that give the appearance of a much larger concrete slab.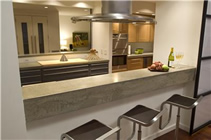 This countertop illustrates how concrete can be used to create a 3-dimensional look. The interior of this countertop is 2-inches thick, but the exterior (the drop nose feature) is 9-inches thick. It gives the illusion that the countertop is one massive piece of concrete.
STANDARD COUNTERTOP DIMENSIONS
When you are designing your concrete countertop, there are standard dimensions that can help guide your design and make your countertops comfortable to work at.
Standard countertop height is 36" tall. Comfortable range for most people is 36-38". Scott Cohen, owner of The Green Scene, recommends designing counters lower than the distance of your client's bent elbow to the ground.
Bar and serving counter heights vary from 42-46" tall. If your countertop will have bar stools next to it, choose your bar stools ahead of time and let the height of the seat dictate your countertop height. This will make sitting, eating and conversing at the countertop much more comfortable. Bar stools are typically 28" tall but can vary greatly per style and manufacturer.
Your countertop should cantilever a minimum of 10 inches to allow room for your knees under the counter.
Standard height for a table top is 30" tall.
A recommended practice is to measure your appliances and accessories that will be incorporated with your countertop. This way you can calculate how much space is required for your counter.
Allow for placement of a serving platter between each accessory or appliance on the counter. A good rule of thumb is 16".

Photo Credit: The Green Scene