Concrete Countertop Heat Resistance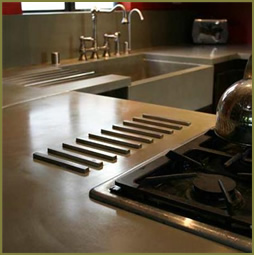 DeWulf Concrete
A common question posed about concrete countertops is if they can withstand heat. Overall, a concrete countertop is a durable, tolerant material. The issue lies with the sealer that is used on the concrete countertop. Every concrete contractor has their own preference for countertop sealers, so it is best to discuss with them what they use and how well it holds up to heat.
As a general rule, it is best to avoid placing hot pans on concrete countertops. It is likely there are sealers on the market that now provide protection from heat. But until you know which sealer will be used by your contractor, avoid placing hot items directly on the concrete countertop surface. Concrete is very heat resistant, but the concern is damaging or discoloring the sealer.
Using trivets of stainless steel, brass or copper are the best way to avoid damage to your sealer. Another one of concrete's versatile features is that you can embed a trivet(s) directly into the countertop, providing an easy access place for setting hot pans without the worry of doing any damage. You can also use hot plates or a hot pad on the counter, but embedded trivets are a unique and functional design option.