Los Angeles Concrete Countertops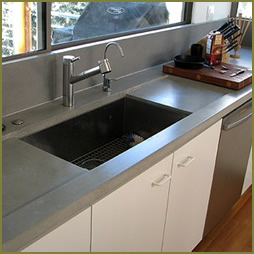 Kitchen Countertop in Los Angeles, CA
Los Angeles is a melting pot of culture and style. You can eat any kind of international food and you will see many different architectural styles. In recent years, business and homeowners in the city have been opting for concrete countertops, rather than the traditional stone or tile options. They are attracted to concrete because of its design versatility and sustainability.
Bar Countertops
Pubs, bars and restaurants are one of the most popular areas for concrete countertops to be installed. Many commercial establishments prefer concrete because it is easy to maintain. It is also one of the most economical choices for bars and restaurants that want to customize and tie in elements of their design scheme. Concrete countertop bars can be very organic and natural looking. They can be embedded with specific items that relate to an establishment's theme. They can also be colored a wide array of colors to blend with nearly any interior design.
Concrete Countertops at The Surly Goat in West Hollywood
The Surly Goat in West Hollywood features American microbrews and artisan Belgian beers. Its current location used to be a glitzy nightclub complete with a quartzite bartop. This bartop was replaced with a handcrafted concrete countertop that is more in keeping with the atmosphere of a casual neighborhood brew pub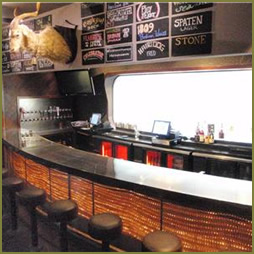 The Surly Goat brew pub in West
Hollywood, Calif. uses concrete for
its 25-foot long bartop.
Culloton Design, a Los Angeles contractor, cast the 25-foot-long bartop on site using recycled glass silicate, fly ash, and brick in the concrete mix. Multiple layers of sealer and a protective beeswax finish protect the bar from food and beer stains.
Address: : Visit The Surly Goat at: 7929 Santa Monica Blvd West Hollywood, CA 9004
Kitchen Concrete Countertops
Homeowners in LA also know that concrete countertops are the cutting-edge of home interiors. For those not satisfied with the limitations of granite or tile, many Angelinos choose concrete for their kitchen countertops.
This kitchen in Venice, CA features beautiful and functional concrete countertops. The countertops were precast in DeWulf Concrete's shop with rapid set concrete.
The countertop color is a custom blend of black and yellow integral pigments that resulted in a light brown mustard hue. An integrated farm style sink was also made from concrete for this kitchen. An embedded stainless steel drain board and a hot plate trivet make the counters incredibly functional and add style.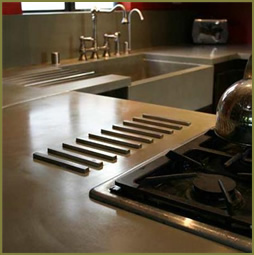 Kitchen Countertop in Venice, CA
Concrete countertop creators consider themselves artisans that can create any look you desire. Los Angeles concrete contractors are some of the most creative in the nation.
Find a Los Angeles Concrete Countertop Contractor:
Los Angeles and the Valley (North of I-105 West of I-605)
Long Beach-South Bay (South of I-105)
LA County East (East of I-605)