Concrete Countertop Scratch Resistance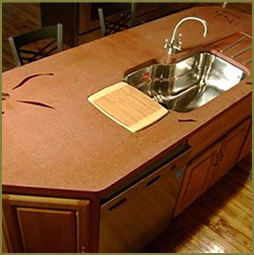 Concrete Innovations
"Will my concrete countertop scratch?" – A common question is whether or not you can cut on a concrete countertop or will it scratch. Cutting on a concrete countertop won't hurt the concrete, but it can damage the sealer. This can affect the sealer's ability to keep out water and stains.
Because concrete countertops are a popular surface for kitchens and food prep areas, it's a reasonable question to ask. Cutting boards should always be used when chopping or preparing foods.
One creative option is to embed cutting boards into the concrete surface. Some contractors have devised embeds for removable cutting surfaces that protect the countertop, and still provide functionality to the food prep area.