Concrete Countertop Thicknesses
Concrete countertops are so appealing partly because of the variety of looks they can provide. A 6" thick and heavy-looking drop edge front can be achieved but does not require the entire countertop to become 6" thick.
The standard slab thickness is 1.5" – 2". This is the most common thickness which gives countertop edges a very mainstream look. Larger thicknesses are possible, as mentioned. If a 6" slab is desired, the back and center of the countertop are still 1.5" thick and the front "grows" to the desired thickness. So it still looks 6" thick but is only 6" thick in the front.
Casting countertops larger than 1.5" – 2" thick can be a nightmare to install because of weight. (Read about concrete countertop weight.) Mostly done for aesthetic reasons, however, contractors have developed ways to build the majority of the countertop at standard thickness but to create appealing designs that give the appearance of a much larger concrete slab.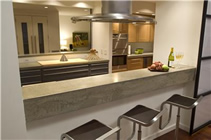 This countertop illustrates how concrete can be used to create a 3-dimensional look. The interior of this countertop is 2-inches thick, but the exterior (the drop nose feature) is 9-inches thick. It gives the illusion that the countertop is one massive piece of concrete.